American

University of Buffalo – UB SUNY - University Ranking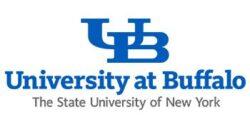 University Description (Ranking at bottom)
The University at Buffalo (UB) is a public research university located in Buffalo, New York. It is part of the State University of New York (SUNY) system.
SUNY Buffalo or UB SUNY, is a public research university with campuses in Buffalo and Amherst, New York. It is one of the two flagship institutions of the SUNY system. As of fall 2020, the university enrolled 32,347 students in 13 schools and colleges, making it the largest and most comprehensive public university in the state of New York.
In addition to the College of Arts and Sciences, the university houses the largest state-operated medical school, dental school, education school, business school, engineering school, and pharmacy school, and is also home to SUNY's only law school. UB has the largest enrollment, largest endowment, and most research funding among the universities in the SUNY system.The university offers bachelor's degrees in over 140 areas of study, as well as over 220 master's programs and over 95 doctoral programs, and 55 combined degree programs.
UB's alumni and faculty have included five Nobel laureates, five Pulitzer Prize winners, one head of government, two astronauts, three billionaires, one Academy Award winner, and one Emmy Award winner.
University Analysis
Here are some key aspects of the University at Buffalo:
Academic Programs: UB offers a comprehensive range of undergraduate, graduate, and professional degree programs across various disciplines. The university is organized into 13 schools and colleges, including the College of Arts and Sciences, School of Engineering and Applied Sciences, School of Medicine and Biomedical Sciences, Law School, School of Management, and more. UB is known for its strong programs in fields such as engineering, computer science, health sciences, architecture, business, law, and the arts.
Research Excellence: UB is a major research university with a strong emphasis on innovation and discovery. The university conducts research in areas ranging from natural sciences and engineering to social sciences, humanities, and healthcare. UB has several research centers and institutes dedicated to specific fields of study, encouraging collaboration and interdisciplinary work. The university is particularly known for its research in areas such as biotechnology, nanotechnology, advanced manufacturing, and renewable energy.
Campus and Facilities: UB has three campuses—the North Campus in Amherst, the South Campus in Buffalo, and the Downtown Campus in Buffalo. The campuses feature modern facilities, state-of-the-art laboratories, libraries, research centers, sports facilities, performance venues, and student residences. The university is committed to creating a supportive and inclusive environment for learning, research, and community engagement.
Student Life and Community Engagement: UB offers a vibrant student life experience with numerous clubs, organizations, and activities catering to diverse interests. Students can participate in academic clubs, cultural groups, sports teams, student government, community service initiatives, and more. UB also encourages students to engage in experiential learning opportunities, internships, and cooperative education programs that provide practical, real-world experiences.
Global Perspective: UB is dedicated to fostering a global perspective and offers various opportunities for international engagement. The university hosts a large number of international students, offers study abroad programs, and actively supports research collaborations and partnerships with institutions worldwide. UB's international programs provide students with the chance to develop cross-cultural skills, gain global exposure, and appreciate diverse perspectives.
Community Impact: UB has a strong commitment to serving its local community. The university actively participates in community outreach initiatives, partnerships with local organizations, and initiatives that address societal challenges. UB's service learning programs connect students with community needs, fostering social responsibility and civic engagement.
Affordable Education: As a public university within the SUNY system, UB provides affordable education options for students. In-state tuition rates are available for New York State residents, while out-of-state students can benefit from competitive tuition rates compared to private institutions. The university also offers scholarships, grants, and financial aid opportunities to support students in their academic pursuits.
With its strong academic programs, research excellence, commitment to community engagement, and affordability, the University at Buffalo – UB SUNY attracts students from diverse backgrounds to study and engage in intellectual exploration in a vibrant and inclusive educational environment.
Address: 12 Capen Hall, Buffalo, New York USA 14260-1660
Phone: 716-645-2000