American

California State University – Fresno - University Ranking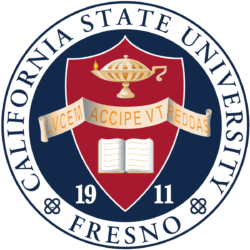 University Description (Ranking at bottom)
California State University, Fresno, commonly referred to as Fresno State, is a public university located in Fresno, California. Established in 1911, it is one of the 23 campuses of the California State University system.
Fresno State offers over 60 undergraduate degree programs, more than 40 master's degree programs, and a selection of doctoral programs. The university is organized into eight colleges, including the College of Arts and Humanities, College of Science and Mathematics, College of Social Sciences, College of Health and Human Services, and the Craig School of Business, among others.
The university is known for its strong programs in agriculture, engineering, business, education, and the arts. Fresno State's Jordan College of Agricultural Sciences and Technology is a leader in agricultural research and offers hands-on learning experiences through its numerous farms, orchards, and research centers. The Lyles College of Engineering provides students with practical skills and opportunities to work on industry-sponsored projects.
Fresno State's campus occupies 388 acres and features modern facilities, including state-of-the-art laboratories, classrooms, and the Madden Library. The campus also houses the Save Mart Center, a multi-purpose arena that hosts various events, including sporting events, concerts, and performances.
The university's Bulldogs athletic teams compete at the NCAA Division I level in the Mountain West Conference. Fresno State's sports programs have had notable success, particularly in football and baseball.
In addition to its academic and athletic offerings, Fresno State is actively involved in community engagement and service-learning. The university has a strong commitment to promoting diversity and inclusivity on campus and offers numerous programs and services to support student success.
Overall, California State University, Fresno provides students with a comprehensive education, strong research opportunities, and a vibrant campus community. With its focus on practical learning, community involvement, and academic excellence, it is a prominent institution within the California State University system.
Address: 5241 N Maple Ave, Fresno, CA 93740, USA
Phone: 1 559-278-4240