American

Boston College (BC) - University Ranking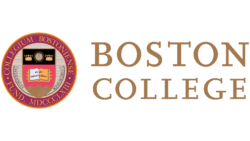 University Description (Ranking at bottom)
Boston College is a private Jesuit research university located in Chestnut Hill, Massachusetts, United States.
Boston College founded in 1863 to educate Boston's predominantly Irish, Catholic immigrant community. It opened its doors on September 5, When it outgrew the location, then-president Rev. Thomas I. Gasson, S.J., bought 31 acres of the former Lawrence Farm in Chestnut Hill, Massachusetts, broke ground in 1909 on a new campus, today fondly known as "the Heights."1864, in a building on Harrison Avenue in Boston's South End, a "small streetcar college" for commuting students. BC began as an undergraduate liberal arts college, but as it grew, it added graduate programs and professional schools fulfilling its charter as a university. Through the decades, Boston College has become an internationally respected research university and a center of academic excellence.
Welcome to Boston College
University Analysis
Here are some key aspects of Boston College:
Academic Programs: Boston College offers a wide range of undergraduate, graduate, and professional degree programs across various disciplines. The university comprises nine schools and colleges, including the Morrissey College of Arts and Sciences, Carroll School of Management, Connell School of Nursing, Lynch School of Education and Human Development, and more. Boston College's academic programs are known for their rigorous curriculum, emphasis on critical thinking, and the integration of liberal arts education with professional preparation.
Jesuit Tradition: Rooted in the Catholic and Jesuit tradition, Boston College emphasizes intellectual inquiry, ethical leadership, and service to others. The university encourages students to explore questions of meaning and purpose, engage in dialogue across diverse perspectives, and be men and women for others. This values-based education aims to develop well-rounded individuals who contribute positively to society.
Research and Scholarship: As a research institution, Boston College is committed to advancing knowledge and discovery. The university supports research in various fields, including science, humanities, social sciences, education, and theology. Boston College operates a number of research centers and institutes, fostering collaboration, interdisciplinary work, and innovation.
Campus and Facilities: Boston College's main campus is situated on a picturesque 175-acre site in Chestnut Hill. The campus features a blend of Georgian-style and contemporary buildings, state-of-the-art classrooms, laboratories, libraries, sports facilities, performance venues, and student residences. The campus provides a vibrant and inclusive environment for academic pursuits, personal growth, and community engagement.
Strong Liberal Arts Foundation: Boston College is known for its strong liberal arts foundation. The university encourages students to explore a broad range of disciplines, fostering critical thinking, creativity, and a well-rounded education. Liberal arts courses are integrated into all undergraduate programs, promoting intellectual curiosity, interdisciplinary learning, and the development of essential skills.
Student Life and Community Engagement: Boston College offers a vibrant and diverse student life experience. The university provides numerous opportunities for involvement in clubs, organizations, athletics, and community service. Students can engage in cultural events, participate in student government, join academic or recreational clubs, and contribute to community service initiatives.
Global Perspective: Boston College emphasizes global engagement and offers study abroad programs in various locations around the world. The university promotes cross-cultural experiences, encourages dialogue on global issues, and supports research and service projects with an international focus. Boston College's international programs provide students with opportunities to develop a global perspective, increased cultural understanding, and global citizenship.
Boston College's strong academic reputation, commitment to values-based education, research excellence, and emphasis on community engagement contribute to its appeal as a respected institution. Its distinctive combination of liberal arts education, Jesuit values, and global perspective provides students with a well-rounded and transformative educational experience.
Address: 140 Commonwealth Ave, Chestnut Hill, MA 02467, USA
Phone: +1 617-552-8000