American

Auburn University - University Ranking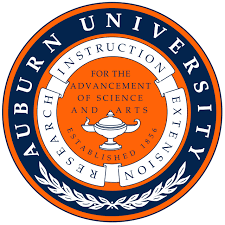 University Description (Ranking at bottom)
Auburn University is a public research university located in Auburn, Alabama. Established in 1856 and has a long and storied history.  Auburn University has developed into one of the largest universities in the South, remaining in the educational forefront with its traditional blend of arts and applied science and changing with the needs of today while living with a respect for the traditions and spirit that are Auburn.
At Auburn University we take pride in putting our students first. Within our 13 schools and colleges we have nationally ranked programs, including architecture, pharmacy, veterinary science, engineering, forestry, interior design and business. As Auburn University students, you should "believe in education, which gives me the knowledge to work wisely and trains my mind and my hands to work skillfully."
University Analysis
Auburn University offers a comprehensive range of academic programs across thirteen colleges and schools, including majors in areas such as business, engineering, agriculture, liberal arts, sciences, architecture, education, and human sciences. The university is known for its strong programs in engineering, veterinary medicine, business, and agriculture.
Research is a key focus at Auburn University, with faculty and students actively engaged in innovative research across a wide range of disciplines. The university is classified as a doctoral research institution with high research activity by the Carnegie Classification of Institutions of Higher Education. Researchers at Auburn University make significant contributions in areas such as aerospace engineering, biomolecular engineering, materials engineering, agriculture, sustainability, and human sciences.
The campus of Auburn University is spread over 1,800 acres and offers state-of-the-art facilities and resources for students. In addition to classrooms and labs, the campus features research centers, libraries, performance spaces, recreational facilities, and athletic venues. Auburn University also has a commitment to sustainability and has implemented numerous environmentally friendly initiatives on campus.
Auburn University is home to a vibrant and active student community. With over 500 student organizations and clubs, there are plenty of opportunities for students to engage in extracurricular activities related to their interests. The university's athletic teams, known as the Auburn Tigers, compete in NCAA Division I sports and have a passionate fan base.
Auburn University places an emphasis on community engagement and outreach. The university is dedicated to serving the community and addressing societal needs through service-learning initiatives, partnerships, and volunteer opportunities. Students often participate in community service projects, internships, and cooperative education programs to gain hands-on experience and make a positive impact.
Diversity and inclusion are important values at Auburn University, and the institution strives to create an inclusive and welcoming environment for all students. The university offers various scholarships, grants, and financial aid options to support students in their educational journey, and it actively promotes diversity through programs and organizations.
In summary, Auburn University is a renowned institution that offers a wide range of academic programs, emphasizes research, fosters community engagement, provides a vibrant campus life, and values diversity and inclusion. It is a place where students can pursue their passions, gain knowledge and skills, and make a difference in their chosen fields and communities.
Address: Auburn, Alabama 36849, USA
Phone: 1 334-844-4000