Asian

Anna University - University Ranking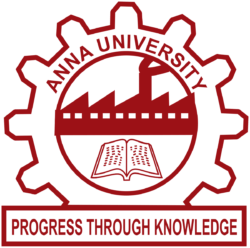 University Description (Ranking at bottom)
Anna University is a renowned technical university located in Chennai, Tamil Nadu, India. It was established in 1978 and named after C. N. Annadurai, the former Chief Minister of Tamil Nadu. The university is known for its quality technical education and is considered one of the premier institutions in the country.
The University's Main Campus extends over 189 acres abutting the Adyar River on the north and Raj Bhavan on the south.
The vision of Anna University is to be a world class institution by producing professionals with high technical knowledge, professional skills and ethical values, and remain as a preferred partner to the industry and community for their economic
and social development through excellence in teaching, research and consultancy. Anna University shall be recognized as a point of reference, a catalyst, a facilitator, a trend setter and a leader in technical education
MISSION:
Anna University shall contribute to the educational, economic and social
development by;
producing students who are intellectually and technically equipped with well defined knowledge, skills and ethics who are creative thinkers, inspiring leaders and contributing citizens
introducing high quality academic and research programmes and providing extension services in cutting edge technologies
ensuring a supportive campus climate with dynamic leadership and development opportunities to meet the needs of the students, faculty and staff
enhancing academic productivity through induction of quality faculty, accelerated graduation, credit banking, augmented continuing education
opportunities and adoption of current technology sharing the intellectual resources and the infrastructural facilities among the academia from other institutions and among the industrial society, funding agencies and government
enhancing the collaborative partnership between Industry and Institute for commercializing and transferring the latest technological know-how towards societal development
setting up a Global University Network Campus that embodies the ideals of an open, democratic and global society catering to the needs of the global community and satisfying cultural, ethnic and racial diversity
expanding global participation spread across continents with the aid of interactive satellite based education and the usage of digital library
enriching the national and international character of the University
ensuring efficient administrative coordination and effective decision making through necessary reforms and by strategically allocating resources
bench marking against technologically sound global leaders with a view towards continuous improvement
Historic Journey of Asia's oldest technical Institute by Historian Sriram V
University Analysis
Anna University offers a diverse range of undergraduate, postgraduate, and doctoral programs in engineering, technology, management, and allied sciences. It comprises four constituent colleges, namely the College of Engineering, Guindy; Alagappa College of Technology; School of Architecture and Planning; and the Madras Institute of Technology. Additionally, it has over 500 affiliated colleges spread across different districts of Tamil Nadu.
The university follows a semester system and conducts examinations twice a year to evaluate students' progress. It aims to provide students with a comprehensive education that combines theoretical knowledge with practical skills, preparing them for successful careers in their chosen fields.
The faculty members at Anna University are highly qualified and experienced in their respective disciplines. They are actively involved in research activities, publishing papers, and participating in conferences to contribute to the body of knowledge in their fields of expertise. The university also offers research programs leading to doctoral degrees, encouraging scholars to pursue cutting-edge research in various domains.
Apart from academics, Anna University places a strong emphasis on extracurricular activities and overall personality development. The university organizes cultural events, sports tournaments, technical competitions, and other co-curricular activities to promote students' creativity, leadership skills, and teamwork.
Anna University's infrastructure is well-equipped with state-of-the-art laboratories and research facilities, modern classrooms, a central library, sports facilities, and hostels for students. The university also has collaborations with industries and research organizations, providing students with opportunities for internships, industry projects, and practical exposure to real-world applications.
The university is also involved in various community outreach initiatives and social development activities. It encourages students and faculty to actively contribute to society through initiatives such as environmental awareness campaigns, rural development programs, and technology-transfer projects benefiting local communities.
Overall, Anna University is a prestigious institution that offers quality technical education, research opportunities, and a vibrant campus life. It is committed to producing skilled professionals, fostering innovation, and making significant contributions to society and the nation as a whole.
Address:  Sardar Patel Road, Anna University, Chennai – 600 025, Tamil Nadu
Phone: 044 – 2235 8314