American

University of South Carolina (UofSC) - University Ranking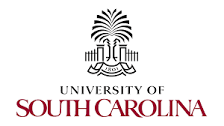 University Description (Ranking at bottom)
The University of South Carolina (UofSC) is a public research university located in Columbia, South Carolina, United States. Founded in 1801, it is the flagship institution of the University of South Carolina System and one of the oldest universities in the United States.
There's much to learn about the university that's been in the heart of South Carolina for more than 200 years and counting. Take a closer look at our accomplishments, aspirations and the people who make us successful.  The University of South Carolina is a storied setting where academic and professional ambitions come to life every day. Whether in quiet Horseshoe study sessions or energizing student experiences, our campus has a long history of preparing the next generation of leaders.
With thriving academic and research excellence and a lively, welcoming student experience, the University of South Carolina brings the opportunities of higher education to new generations. South Carolina's unrivaled college experience has been sought by students, faculty and academic researchers for more than 200 years. Founded in 1801, the university is located in Columbia, the capital of South Carolina.
University Analysis
UofSC offers a wide range of undergraduate and graduate programs through its various colleges and schools. These include programs in business, engineering, arts and sciences, education, nursing, public health, law, social work, pharmacy, and many others. The university is known for its strong programs in fields such as international business, law, medicine, public health, journalism, and arts.
Research plays a significant role at UofSC, and the university is classified by the Carnegie Foundation as a Doctoral Research-Intensive institution. It conducts extensive research in areas such as aerospace, health sciences, environmental sciences, marine sciences, education, and social sciences. UofSC has several research centers and institutes that foster collaboration and innovation among faculty and students.
The university has a diverse and vibrant campus with numerous facilities and resources to support student life. It offers a range of amenities, including libraries, research laboratories, athletic facilities, student organizations, cultural centers, and recreational spaces. The campus is known for its beautiful historic buildings and picturesque surroundings.
UofSC is also an active participant in the Southeastern Conference (SEC) and competes in various sports at the NCAA Division I level. Known as the Gamecocks, UofSC's athletic teams have achieved success in sports such as football, basketball, baseball, soccer, and track and field.
The university places a strong emphasis on community engagement and service. UofSC encourages students to get involved in volunteer activities, internships, and cooperative education opportunities. The university actively collaborates with the local community to address civic issues and contribute to regional development.
UofSC is committed to promoting diversity, inclusion, and equity. The university actively supports initiatives and programs that foster a welcoming and inclusive environment for students, faculty, and staff from all backgrounds.
In summary, the University of South Carolina is a prestigious public research university offering a wide range of programs across various disciplines. With its emphasis on research, community engagement, and athletic excellence, UofSC provides students with a comprehensive educational experience and prepares them for successful careers and contributions to society.
University of South Carolina Website
Address: Columbia, SC 29208, USA
Phone: 1 803-777-0169