New Zealand

University of Otago - University Ranking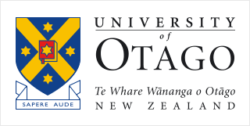 University Description (Ranking at bottom)
The University of Otago is a public research university located in Dunedin, New Zealand. It was established in 1869, making it the oldest university in New Zealand. The university is known for its strong academic reputation and is consistently ranked among the top universities in the country and internationally.
In addition to being a centre of academic excellence, Otago is New Zealand's only true residential university. This gives you a student lifestyle that is unparalleled in New Zealand.  85% of our students come from outside Dunedin (including 3,000 international students from 100 countries).  3,500 of our first-year students live at one of 14 residential colleges, located on or near campus.  Most of our 21,000 students live within 1 km of the Dunedin campus – creating our iconic student quarter that features academic, cultural, social, and sporting facilities, just a short walk from the Dunedin city centre.
Being a residential university, Otago offers dozens of on-campus support services. These range from our modern student health centre (with subsidized medical and counseling services), to a superb disability support service, specialized IT support, and a careers service to prepare you for the graduate job market.
And at Otago, there are over 140 student clubs and societies to choose from – so you'll find it easy to make new friends and discover new interests.
Residential colleges at the University of Otago
University Analysis
Here are some key features and information about the University of Otago:
Academic Programs: Otago offers a wide range of undergraduate and postgraduate programs across various disciplines. It has four academic divisions: Health Sciences, Humanities, Sciences, and Business. The university is particularly renowned for its health science programs, including medicine, dentistry, and pharmacy.
Research Excellence: Otago is recognized for its high-quality research output and has a strong research culture. The university prioritizes research in several fields, including health sciences, environmental sciences, humanities, and social sciences. It has world-class research facilities, centers, and institutes that support diverse research areas.
Campus and Facilities: The main campus, located in Dunedin, is spread across a beautiful setting with historic and modern buildings. The university also has satellite campuses in Wellington and Christchurch. It offers state-of-the-art facilities, libraries, laboratories, sports complexes, and student accommodation options.
Student Life: Otago provides a vibrant and welcoming environment for students. With a diverse student body, it offers numerous clubs, societies, and recreational activities to cater to diverse interests. The Otago University Students' Association (OUSA) is an active student association that organizes events and provides support services.
International Recognition: The University of Otago is internationally recognized for the quality of its education and research. It consistently features in the top 200 universities worldwide in various university rankings, such as QS World University Rankings and Times Higher Education Rankings.
Student Support: Otago offers comprehensive support services to students, including academic support, counseling, health services, and career advice. The university focuses on the well-being and success of its students, providing a range of resources and opportunities to enhance their university experience.
In summary, the University of Otago is a prestigious institution with a rich history, offering a diverse range of academic programs and research opportunities. It is renowned for its commitment to excellence in education and research, providing a supportive and engaging environment for students.
University of Otago Website
Address: 362 Leith Street, Dunedin North, Dunedin 9016, New Zealand